I've recently been going through some of the engravings done by seventeenth-century artists, particularly the Bohemian Wenceslaus Hollar who worked extensively in England, and Abraham Bosse, a French engraver. I love, love, love the engraving styles of the early seventeenth century, and particularly the styles of both the artists that I've mentioned.
As a historian working on dress these types of engravings are also particularly useful to understand what types of clothing people wore and how they wore it. Although, keep in mind, that as an artistic medium these drawings can be prone to exaggeration or artistic licence. However, for the most part Hollar seems to have liked to draw people from all walks of life and in various social situations, so you can assume that they must have been somewhat realistic representations.
Fashionable Gowns
These fashionable elite women both wear the gowns of the 1630s that consisted of bodices with high waistlines and elbow-length full voluminous sleeves, a stomacher, a petticoat skirt and a falling lace collar. The bodices were often boned, as the extant example from the V&A is below with whalebone, buckram and canvas, and the stomacher would also have been stiffened with heavy fabrics, whalebone or a busk.
Hungerline
Translation: "The clothing of a bourgeoise lady of Paris in a simple skirt and a modern style of hongreline when she wants to leave her neighbourhood."
Isaac Briot, 1629. Bibliothèque nationale de France, Paris.
Some French sources state that the main features of the hongreline was it's "basques grandes/flottantes", ie. the large and flowing lower part of the bodice. However, the main difference I can see between a hungerline and a normal gown bodice or waistcoat, and the reason I have chosen Hollar's picture above, is the sleeve detail. The drawing above depicts a sleeve that contains two parts - the bigger embroidered upper sleeve that stops at the elbow, and a lower sleeve that comes out from underneath and finishes at the wrist. The sleeves also seem to have been heavily embroidered as description in Henrietta Maria's bills describe, and maybe even had decorative button detail that mimicked a man's coat sleeves, as is very obvious on the next picture below. It may well be though that this style is one that will never be completely recovered from history.
Pomanders
Pomanders (from the French pomme d'ambre) were items of jewellery that contained fragrant aromatic substances such as ambergris, musk, clove or civet, and commonly hung from the neck or the waist. Popular since medieval times they were believed to ward off infection during times of plague (as it was thought that disease was transmitted through foul air). However, by the eighteenth century they were used mostly to cover up bad smells, particularly in cities such as London were the streets were often filled with household waste and excrement. They also took part in the social etiquette practices of the day.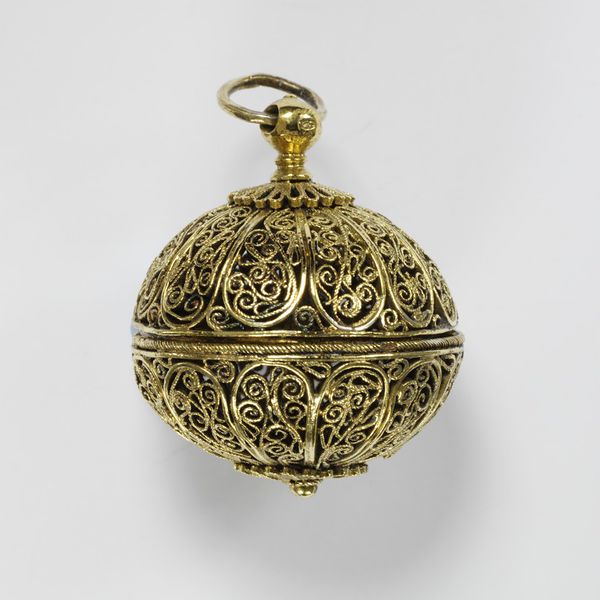 Pomander. 1600-50. European. Victoria & Albert Museum, London
Purses
This woman wears a waistcoat, a petticoat, falling lace band and also holds onto a fan. More interestingly though she appears to have a purse dangling from her waist. In the seventeenth century purses such as this were rarely used to actually carry money, as women such as the one depicted in this engraving rarely engaged in commercial exchanges that required cash. These purses could also contain mirrors (which is probably indicates what it was most commonly used for). They could also be used to carry around sewing materials or sweets, and other bits and pieces.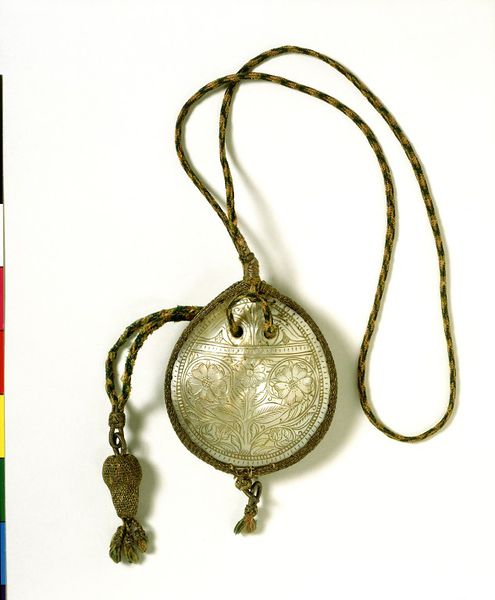 Purse, 1600-1630. England. Victoria & Albert Museum, London
Muffs
this one
from the eighteenth century, so it is totally plausible that they were also made from fabric too. In my archival research on English royal wardrobes I've actually never come across a muff, well, in tailoring bills anyway. So I'm not sure exactly where they were sourced. Nor have I been able to find any extant seventeenth-century examples in museum collections. The best we have from the period is other drawings from artists like Hollar, such as:
Masks
The woman on the left wears an over cape, a muff and has a purse dangling from her waist. Whilst the woman on the left wears a fashionable gown with a falling lace collar and holds a muff. What both women have in common is that they are wearing masks.
"And one of the ladies would, and did sit with her mask on, all the play, and, being exceeding witty as ever I heard woman, did talk most pleasantly with him; but was, I believe, a virtuous woman, and of quality. He would fain know who she was, but she would not tell; yet did give him many pleasant hints of her knowledge of him, by that means setting his brains at work to find, out who she was, and did give him leave to use all means to find out who she was, but pulling off her mask. He was mighty witty, and she also making sport with him very inoffensively, that a more pleasant 'rencontre' I never heard."
Hats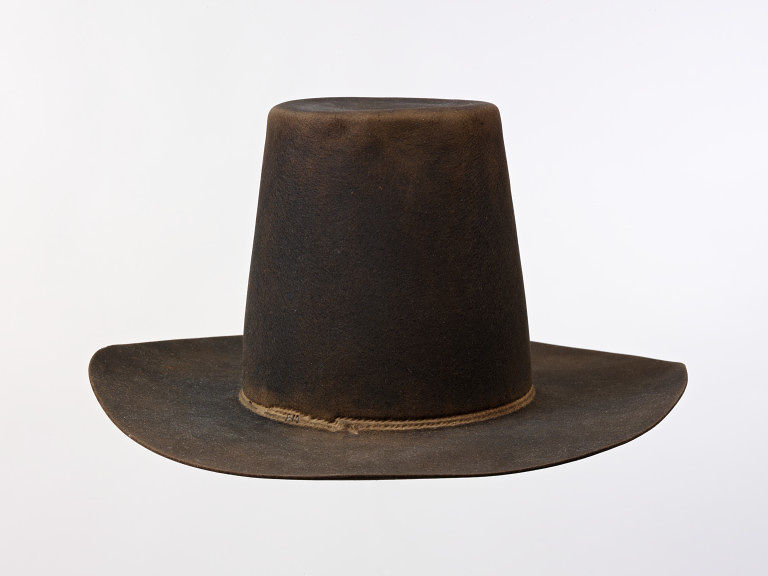 Felted Hat, 1590-1670. England. Victoria & Albert Museum, London
The woman in this picture is most likely a middling class city woman. Felt hats were common among all classes of people in the seventeenth century. They were used as riding headwear for elite women and as everyday wear for the gentry and middling classes. Hats were also particularly common in rural areas of Britain, understandably as rural people usually spent more time outdoors in fields. However, as felt hats were still expensive they would probably have had similar styles made from leather.
The 1629 probate inventory of Arthur Coke, listed in part of his late wife's clothing "j [1] black beaver hatt with a bond of gold smythes - worke of starrs and half moones & iij [3] other bands of silver & gold", indicating that the bands on these hats could be incredibly decorative as well. Hats could also be pointed, looking like what we now think of at witches hats, such as the one worn in the painting Mrs Salesbury with her Grandchildren from 1675-6.
Portrait of Mrs Salesbury with her Grandchildren Edward and Elizabeth Bagot, by John Michael Wright. 1675-6. Tate Gallery, London
Ruffs & Collars
It is interesting that this particular lady is wearing a ruff as by the 1640s falling collars were more the norm. I've certainly found no evidence of ruffs in all the probate inventories and household bills that I've looked at from the 1630s/40s. Maybe this is an anomaly?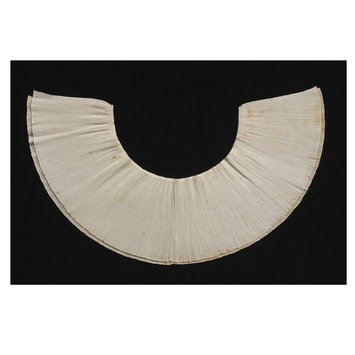 A more common "ruff" from this period. Ruff, 1620-29. England. Victorian and Albert Museum, London
Waistcoats
This woman wears a coif, a falling collar, waistcoat and petticoat. She appears to also be wearing an apron, which indicates that she was most likely a middling or common class woman. In her right hand she also holds a pair of gloves. Interestingly if you enlarge the picture and look really closely at the embroidered detail on the waistcoat it looks just like this one in the V&A which is made from fustian and embroidered with silver thread and spangles: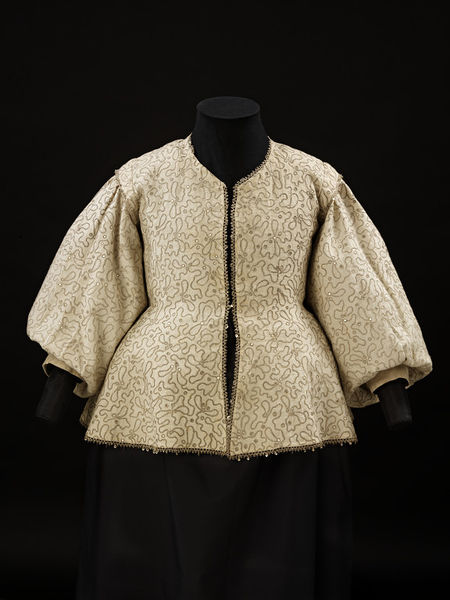 Waistcoat, English, 1630-40. Victoria & Albert Museum, London
During the early seventeenth century a waistcoat was one of the most basic items in a woman's wardrobe. Both elite and common women owned waistcoats. A tailoring bill for the wardrobe of Queen Henrietta Maria from 1634 noted that she had ordered "one Petticoate & wastcoate of black Taby with twoe Silke & Silver Laces throughout." The probate inventory of Agnes Hilling, a Widow from Clifton England in 1634 records that when she died she possessed "wearing apparell" that consisted of "three gownes, three pettiocoatts, 3 Wascoats, one Aperne, a bond and diveres other things of her Wearinge apparell..."
Pattens
On the University of Toronto's website this picture is listed as "The Kitchen Maid". She wears a coif, waistcoat, and a couple of petticoats. She is carrying what I assume is vegetables and other foods for the kitchen that she works in. The most interesting detail of this engraving is her shoes, or really what I should say is attached to them. These under-shoes were called 'pattens' and were designed to lift the wearer out of the mud and waste of early modern streets. They were usually made from wood or metal and slipped over the shoes on the wearer's foot. Although primarily worn by common or country women, this pair from the early eighteenth century have pointed toes to fit a fashionable woman's shoe and a spot at the back for the heel to sit. The latchets are also covered in velvet which suggest that they would have been worn by a woman with wealth.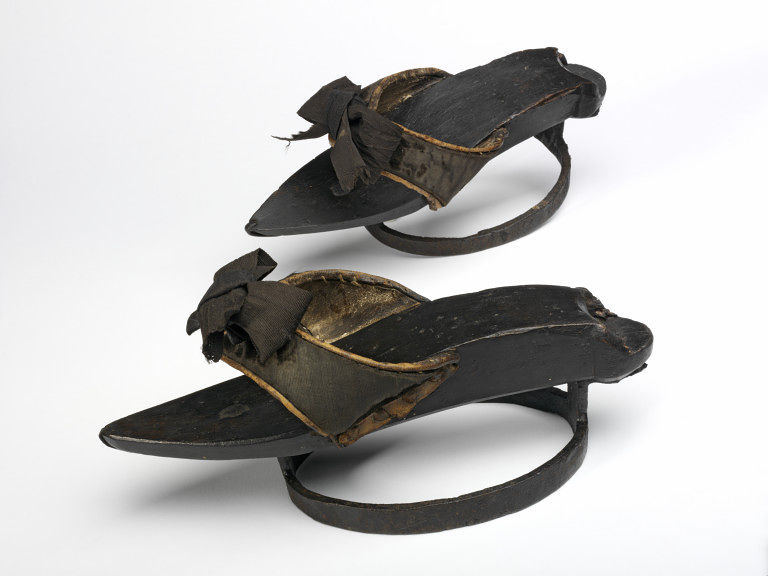 Pair of pattens, Great Britain, 1720s-30s. Victoria & Albert Museum, London
For all their benefits in keeping shoes out of the city street muck, it seems that pattens must have been terribly difficult to walk in. The Burlesque "Scarronnides, or, Virgile travestie a mock poem" a modern retelling of the fourth book of Virgils Aeneid by Charles Cotton published in 1665 proclaimed that, "But to the Church (forsooth) anon/ ...They must, and slipping on their Pattens / They went, as who should say to Mattens." On 24 January 1660 Samuel Pepys similarly wrote in his diary that, "I called on my wife and took her to Mrs Pierce's, she in the way being exceedingly troubled with a pair of new pattens, and I vexed to go so slow."
If you're interested in reading about the contents of the probate inventories of common women during this period, the Costume Historian has done a really great blog post about it
here
.