I should probably start this post by saying this disclaimer: to be honest I don't really like any of Jane Austen's books, or any regency literature for that matter (shock!), BUT I do love zombies and historical clothing! My Halloween costume was originally going to be a pin up zombie, but when I saw the trailer for Pride and Prejudice and Zombies I just knew I just had to go as a regency zombie. I also wanted to carry on the theme of using historical dress projects in my costumes, as last year I went as a
French Revolution Guillotine victim and a Victorian vampire.
The Dress
I've never sewn anything remotely related to the regency era, and I wasn't about to do a really historically accurate project as I knew it would be covered in fake blood that potentially might not wash out. I also didn't want to spend a lot of time fiddling around with scaling up a pattern from Janet Arnold, so I decided to buy
Simplicity 4055
as it looked the most period accurate out of all the commercial pattern brands out there and fairly simple (and fast) to put together.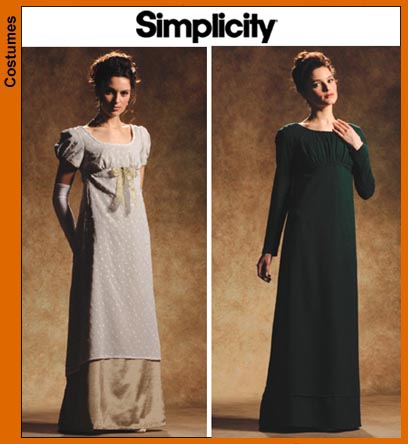 I bought a light grey poplin to make the gown. I chose this for two main reasons: it resembles a light cotton (like muslin) which was a popular fabric choice at the time, and because poplin is a poly-cotton blend I thought that the less natural fibres the less likely the fake blood would stain. I also bought some aged linen looking ribbon to embellish the dress and add to the overall historical undead effect.
The dress went together really easily and the pattern is easy to follow. However, I realised after I finished the dress that because I made view A's skirt from the underskirt pattern pieces (as I didn't want a top skirt overlay), it does not have the pleating at the back that dresses from this period usually had. Doh! Oh well, if I ever do make this again I'll make sure to include it.
The Special Effects Makeup
Of course no zombie costume is complete without some gory special effects makeup. For the makeup I used a combination of different products, mainly:
Mehron's Extra Flesh
to create the wounds,
Mehron's congealed blood
as well as some other cheap stage blood, Ben Nye's amazing
Bruise and Abrasion wheel
,
Graftobian's creme foundation
in the shade Buff to pale myself down. For contouring I used a taupe-grey shade of eye shadow from MAC called Copperplate, and for the dead looking colour around my eyes I used some brown, burgundy and purple shades from a cheap
coastal scents blush palette
that I've had for a few years.
I also put one white colour contact lense in my left eye to give a creepy effect (and also because I hate putting in contacts so I didn't want to have to bother with doing both eyes!) I did actually make and wear some fake teeth out of a playdough mold into which I poured liquid latex, to look like my cheek had ripped open exposing the teeth inside. However, after I did my makeup I realised that it didn't actually look like teeth anyway, and I'm not sure whether I didn't use enough latex to adhere it or the movement of my cheeks slowly disturbed it, but it came off half way through the night. But that's okay because it left a pretty disgusting looking flap of skin which actually looked better.
Rather than taking pictures and going through the process I actually decided to film it in time lapse which turned out pretty great. This is an hour or so worth of footage, condensed into a minute. Tell me what's scarier, the start without makeup or the end zombie!
The Regency Hairstyle
For the hair, I decided to channel Elizabeth Bennett from the BBCs production of Pride and Prejudice.
It was pretty simply. On three day old hair (I'm a zombie so it didn't matter if it was a bit dirty) I just parted my hair down the middle and rolled my hair into hotsticks, making sure I sectioned off the curls I wanted at the front of my face. I wanted it to be kinda messy and not perfect, as zombies aren't really known for their perfect 'dos. After I had finished my makeup I removed the hotsticks, took the a small part of hair near the nape of my neck and did two plaits. Then I pulled the rest of the back section of my hair into a high pony tail and bobby pinned the curls into a messy bun at the back. Then I took the plaits and wrapped them around the bun. I let the front curls hang exactly as they'd come out of the hotsticks. To finish I hair-sprayed everything into place.
The Finished Look
Once the my dress was on, this was the finished costume!
And what good is a zombie costume without a brain prop?
I hope everyone had an awesome Halloween! Oh, and yes, the fake blood did wash off - so I'll be able to wear this costume again, hoorah!