The Dreamstress's Historical Sew Fortnightly has prompted me to finally to get around to making some proper eighteenth century underpinnings – stays and pocket hoops.
The Challenge:
"#19 - 'Wood, Metal, Bone': Cloth may be the most obvious material in historic costuming, but wood, metal, and bone are just as important to creating the right look and silhouette. They are often, literally, the foundations of a period garment."
For this challenge I was originally going to get started on my Restoration court gown from the seventeenth century. However, I want to make this dress in a silk satin and the cost of fabric is where my problem lies. Silk satin in Australia costs anywhere from $35-$50 per metre, and at the moment I really can't justify spending that much.
I am however going to SE Asia for two months at the end of the year, and there are LOTS of fabric stores in places like Thailand that are bound to have lots of silks. So I'm going to buy up big when I'm over there. I plan on buying the silk satin for my Restoration gown and hopefully find a silk brocade or silk jacquard from my 1760-1770s robe à l'anglaise, which I intend to make to put over new underpinnnings.
The STAYS
I've opted to make a pair of half boned stays with straps, rather than fully boned ones without. Although fully boned, strapless stays were still used in the 1770s and 80s (as many people held onto their stays for many years, simply replacing the lining and mending them when it was needed), these were the more fashionable ones for the 20 year period that I'm looking at. The placement of the boning (on a deep angle on the sides) in this style also lends itself to create more of a cone shape on the body, whereas earlier fully boned styles the boning was place in a more vertical, up and down placement which did not mold the body as much.
The inspiration:
My main inspiration for the stays is an extant pair dated 1770-1790 that is the collection of the Victorian and Albert Museum in London. According to the V&A they are made from silk damask, lined with linen and reinforced with whalebone.
Stays, England, 1770-1790, Victoria & Albert Museum. T.909-1913
Although I absolutely love the deep crimson colour of these stays, I want to be able to wear them under any eighteenth century garment, including a chemise à la reine which is made from quite a sheer white cotton.
I don't however just want a plain white pair of stays (where's the fun in that?!), so I've decided to go for a soft, baby blue colour. Silk damask is very hard to find, not to mention really expensive, so after doing a bit of looking around I've found this baby blue silk brocade fabric from Puresilks.us:
The pattern:
I'm slowly teaching myself the art of patternmaking, however I'm not quite confident enough to draft a pair of eighteenth century stays from scratch, so I do need a pattern to work with. The unfortunate thing about being in Australia is that a lot of the really good historically accurate pattern making companies can be difficult and expensive to source from. After asking the ladies of the Historical Fortnightly Facebook group what patterns are best to use for 18th century attire, JP Ryan was the most suggested.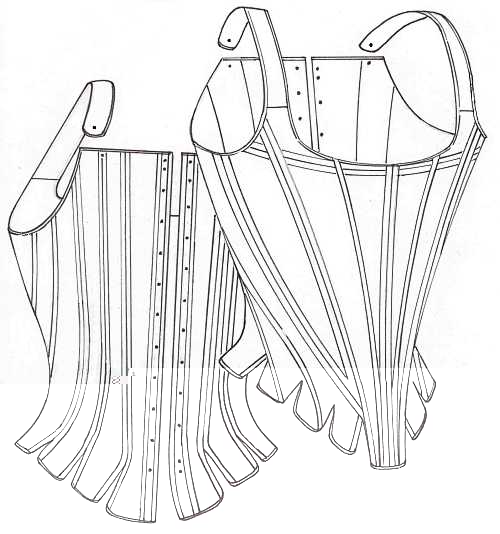 I went on her site and I was ready to buy her half boned stays pattern and her robe à l'anglaise pattern but then I realised that to order the appropriate sizing for the gown I'd have to measure myself with my stays on, only they obviously don't exist yet. If I lived in the US I'd go ahead and just buy one pattern, make it and then order the other. But since UPS changed their fees, it's a flat rate of $20 to get anything shipped to Australia, so I wasn't about to pay $20 to ship one pattern and then another $20 to ship the other.
So I had to keep looking. That's when I came across this pattern from Butterick, B4254.
After doing a bit of searching around and reading blog posts from other historical sewers, the general consensus is that it will make a historically accurate pair of stays with the correct modifications. To help make these modifications I've decided to use this diagram from 'Corsets and Crinolines' by Norah Waugh.
As well as original patterns and sketches from the 'Encyclopédie, ou dictionnaire rasisonné des sciences, des arts and des métiers' also known as the Diderot Encyclopedia, which was a series of volumes published between 1751-72 that dealt with science, arts and craft trades including stay making.
So basically I intend to use the shape and size of the pattern pieces from the butterick pattern (reshaping where necessary), but use historical guides above to work out the placement of the boning and use original construction techniques.
The POCKET HOOPS
Unlike the stays, the pocket hoops seem relatively straightforward and what's better the commercial patterns that include these actually seem pretty historically correct.
I've decided to use the pieces from a pattern that I already have Simplicity 4092 and follow the guide provided by the Dreamstress here. Unlike the stays these are just going to be made from a very plain cream linen.
It appears that pocket hoops fell out of fashion by the mid 1770s and wider, more oval panier hoops became more fashionable in court wear. The robe à l'anglaise I plan on making will date between 1760-1780 so I'm not going to bother to make the paniers – yet!